Jesus's Birth - Miracles fulfilled yet - not believed... 3 Nephi 1-7
On the Morrow I come ​
Attention Activity:
Do we believe signs/miracles that we see today - or do we explain them away as just new tech, or something caused by man.
We have always had moden conveniences, running water, electricity, cars, and dishwashers. We just go through life barely noticing the miracle around us.
Have you ever stopped to think what makes a plane fly?
Or thought about the schooling of the people who have figured it out?
We just complain about delays, security, baggage, food and cramped seating as we fly at 500 miles an hour across the state, country or world.
Electricity is probably the greatest miracle off all.
Have you ever had the power go out for aftenoon and been amazed at how our whole lives are run with electricity? The refrigerator, the stove, microwave, vacuum, dishwasher, heat, air conditioner, lights, computers, and televisions all run on power. How do your spend your time in such an outage?
Never before in the history of the world have people had such luxuries, conveniences and comfort. We control the temperature of our homes and office with the push of a button! What temperature do you feel comfortable in?
Set the thermostat to that number and you control the weather.
No stoking stoves or hauling and chopping wood.
Do we even recognize these as miracles at all... sometimes I don't think so.
In the Nephite times they also saw miracles and yet in some cases explained them away. The Book of Mormon is a type/shadow of how it will be before the second coming:
Quote #1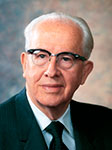 "In the Book of Mormon we find a patten for preparing for the Second Coming. A major portion of the book centers on the few decades just prior to Christ's coming to America. By careful study of that time period, we can determine why some were destroyed in the terrible judgments that preceded His coming and what brought others to stand at the temple in the land of Bountiful and thrust their hands into the wounds of His hands and feet" (Teachings of Presidents of the Church: Ezra Taft Benson [2014],
140
).
In today's lesson we will be reviewing the events prior to his birth as well as the events prior to the the coming of Jesus Christ as a resurrected immortal being to the Americas.
Background:
3 Nephi 1:4-8
4 In the 92nd year of the reign of the judges prophecies began to be more fully fulfilled - greater signs and miracles
5 Some began to say that the time was past for the words to be fulfilled - spoken by Samuel
6 They began to rejoice over their brotheren and say that the time is past - your faith is in vain
7 they made a great uproar throughout land - believers sorrowful
8 Believers watched steadfastly for that day and night and day as if one day - their faith not in vain.
Do some people now claim that our faith is vain? Concening what?
What do you think it meant that they made a great uproar throughout the land?

This story has always bothered me and has been difficult for me to comprehend how it could occur!
Why such an extreme response - I mean they were going to kill every man woman and child who believed... wow!
How could you convince the majority - to kill the minority...
What makes individuals so angry against a group of individuals - has this happened before? Yes!
Here is a Philadelphia university article that was very interesting -
Psychological Aspects Behind the causes of the Holocaust
Quote #2
"
Groupthink
is a subconscious occurrence in which when
everyone around you thinks or acts in a certain way, you naturally begin to think or act in this certain way as well
. This has to do with human instinct to be more like the people around you to fit in, and also just relative morality.
It is always easier to agree with the general majority than disagree, even if it is not the right thing to do
. If something becomes a social norm, it can go from being wrong or weird to acceptable and normal very quickly. It was a domino effect; as the Nazi party gained power, more and more civilians either became Nazis, supported them, or silently supported their power. As the few who openly dis
agreed with the Nazis began disappearing, voices opposing Nazis were no longer heard and the amount who believed them to be wrong seemed fewer and fewer, keeping those who still did believe they were wrong to think they were the only ones. This groupthink phenemona got worse as the Holocaust started, as soldiers would witness the mistreatment, torture, and murder of prisoners of concentration camps and believe that because all of the other guards are acting that way, it was okay for them to as well. It became something that hardly even weighed on their conscious, it seemed so normal to them.
As an example, here is a picture from the Topography of Terror Documentation Center. It is a picture of Nazi concentration camp guards of Auschwitz on a retreat not far from the camp at all.
They are well aware of the horrors they are allowing to happen, and even causing, and look genuinely happy
.
There is not one shred of guilt on any of their face's, and that is the true evil at work within their minds.
"
How does this attitude affect us today? Could this happen yet again?

Do you believe your not actually in a "groupthink" state now and don't even realize it?
Do we let this type of attitude infiltrate our minds - concening others? Terrorists, Muslims, etc.

I've often wondered if there were more to the story than what is in the book - were these gadianton robbers killing for gain? why did they hate the believers so much?
Nephi's Response:
3 Nephi 1:10-16,19
10 Nephi sorrows because of this exceeding wickedness
11 He went out and bowed himself upon the earth - cried mightily to God in behalf of his people
12 He cried mightily all day long until the voice of the lord came unto him saying
13 Lift up your head and be of good cheer - the time is at hand - on the morrow I come into the world and fulfill the words of the prophets
14 I come unto my own to fulfill all things which I have made known to the children of me - I am the father and the son - the sign comes tonight
15 The words given to Nephi were fulfilled - there was no darkness when the sun went down - people astonished
16 many who had not believed fell down as if dead - their plan had been frustrated - to kill those who believed
19 There was no darkness in all that night - light as though it was mid-day - then the sun came up as normal...
Notice that Nephi's prayer was not immediately answered... why do you think this was the case? Why did the lord just wait a while... all day long in fact before he answered him? He knew he was going to answer him already - why wait?

Have you ever gone for a walk at night - imagine next time that you do that the sun goes down but there is no sunset - it says as light as noonday as the sun goes down. What would you think? Do you think you could forget about it some few years later? (I saw the eruption of Mount Saint Helens and I still remember it to this day!)
How could you not believe - it has been prophesied for over 5 years and... now it happened.
3 Nephi 1:21-22
21 A new star did appear according to the word
22 lyings sent forth by Satan, to harden their hearts to the intent that they might not believe those signs and wonders they had seen
How does Satan, and the world use sophistry, fact, and lies to cause us to harden our hearts that we might not believe?
How do we protect ourselves from this... it sounds like such a good explanation... ?
This will happen again but in a slightly different way:
Zech 14:6-7
A strange light shall replace the sun
Rev 22:5
No light needed – God giveth them light
Isaiah 60:19
The sun shall be no more thy light by day nor moon by night – Lord will be light
Rev 7:16
Sun light on them no more
Quote #3
"Zion will not need the sun when the Lord is there, and all the city is lighted up by the glory of his presence. When the whole heavens above are illuminated by the presence of his glory
we shall not need those bright luminaries of heaven to give light, so far as the city of Zion is concened
. But there will be a great people round about, dwelling in
other cities that will still have need of the light of the sun and the moon
; but the great capital city where the Lord will establish one of his thrones—for his throne is not to be in Jerusalem alone, it will also be in Zion, as you will find in numerous places in this Bible. When therefore, he shall establish his throne in Zion and shall light up the habitations thereof with the glory of his presence,
they will not need this light which comes from the bright luminaries that shine forth in yonder heavens, but they will be clothed upon with the glory of their God
. When the people meet together in assemblies like this, in their Tabenacles, the Lord will meet with them, his glory will be upon them; a cloud will overshadow them by day and if they happen to have an evening meeting they will not need … lights of an artificial nature, for the Lord will be there and his glory will be upon all their assemblies. So says Isaiah the Prophet, and I believe it." (
Old Testament Student Study Manual
- Orson Pratt, in
Jounal of Discourses, 14:355–56
; see also
D&C 133:57–58
.)
3 Nephi 1:26-30
26 92 year passed away in peace - glad tidings and fulfillment of signs
27 93 year passed away in peace - Gadianton robbers dwelt in wildeness - infested the land - could not be overpowered
28 94 year Robbers increased in a great degree because of dissenters
29 Children of the Lamanites - who were more righteous than the Nephites - led away and were lost to join Robbers
30 Lamanites were afflicted - because of the wickedness of the rising generation
One year later Gadianton robbers increase - dissenters defect to them - and cause children to tun away as well.
How could this be... they just saw a night without darkness!
3 Nephi 2:1-3
1 95 year people forgot those signs and wonders they had heard and seen, less and less astonished by a sign - hardened hearts
2 Imagining up some vain think wrought by men and the power of the devil - to lead them away and deceive them
Doctrine of Christ was a foolish and vain thing
3 people waxed strong in wickedness and abominations - did not believe any sign or wonder
It would seem that because of the evil art and wickedness in the land - people wouldn't believe in a sign or wonder caused by God because of the signs and wonders caused by the gadiantons....
How can we be deceived into believing a sign/wonder isn't from God but rather comes from the devil?
Are there around us today wonders/signs/knowledge that can persuade us to disbelieve in God and his signs/miracles/doctrines?
How do we center ourselves and not be deceived? How do you know something is from God or not?
3 Nephi 2:10-13
(9 years after sign given)
10 the people remained in wickedness even though there was preaching and prophesying sent among them
11 began to be wars and contentions throughout all the land - Gadianton robbers so numerous - lay waste so many cities and so much death
12 Lamanites join with Nephites for the protection of their own lives and to maintain the liberty
13 Nephites and Lamanites threatened with utter destruction
The Letter from Giddianhi - to Lachoneus
Why in the world would a letter from a Gadianton Robber be included in our Book of Mormon?
3 Nephi 3:2-10
- The letter from Gadianton
2 starts out praising Lachoneus for doing such a great job - lol as if you were supported by a God (denies God even from the beginning)
3 It is such a pity that we should come kill you lol
4 because of the many wrongs you have done unto my men lol
5 I wrote this letter feeling for your welfare
6-8 The request - give up and give everything to us without a fight - become a robber like us
9 I am the leader of this secret society - which works are good and handed down from the ancients
10 if you don't do this we will come and kill you and take back our rights of govenment
Notice how he twists the truth - and lies even in this letter.
Does he write the letter feeling for their welfare? does he know that the societies works are good? No... he is lieing and he knows he is!
Why do you think Mormon put this in our Book of Mormon?
How does it releate to the information we receive from the media/govenment/etc.?
Can we believe everything we read/hear... if not how can we determine truth from error?
Lachoneous's response
3 Nephi 3:11-16,25
11 Lachoneous astonished - at these blatant lies
12 He was a just man and not frightened by a robber - caused people to pray for strength - for when they would be attacked
13 sent proclamation throughout land - to gether bringing all they own
14 build fortifications and defenses to protect themselves from these robbers
15 if you don't repent and cry unto God - you will all die!
16 So great and marvelous were his words - they did do according to them
25 They did all dwell in one land, and in one body - and did repent of all their sins and pray unto god to protect them
They come out of their strongholds and mountains and take possession of all the cities and lands the Nephites and Lamanites have fled from.
There was no one to plunder no one to steal from, no one to murder, no one to get gain from
.
In fact their combination was destroyed
- and they would have to feed on themselves or come out in open combat with the Nephite/Lamanites in their strongholds.
Why was this so effective against the robbers?
Does this method of protection apply to us today?
Should we isolate ourselves from the world, hide ourselves from the evil, and stay aloof?
What council have we been given by our leaders? Is it different?
3 Nephi 4:7-10
They come to battle against the nephites - with their massive armies and weapons and armor died in blood hoping to cause fear in their enemies. However this did not cause them fear unto death but fear unto life in their relying on him for strength and protection and praying for him to help them!
The nephites win this battle and are saved...
AfterMath of this battle and war
3 Nephi 5:1-6
1 Everyone believed and had no doubt the words of the prophets
2 They believed the signs and knew Christ would come
3 They forsook their sins and repented and served God day and night
4 The took the robbers - none escaped - those that repented and covenanted they would murder no more - were set free
5 Those who would not were killed
6 secret and abominable combinations destroyed (were they really?)
Once again the secret combination was established
28 They did enter into a covenant one with another yeah that covenant given by them of old administered by devil
29 They did combine against the people of the Lord, to destroy them and deliver the guilty from punishment
30 They did set at defiance the law of the land and the rights of their country and to establish a king over the land
29 Cain swear unto Satan by his throat if you tell it you die - I will deliver they brother Abel into thine hands
30 Satan swear unto Cain he would do according to his commands - all this done in secret
31 I am master Mahan - the master of this great secret - that I might murder and get gain - he gloried in his wickedness!(Satan obeyed him)
27 retain all their oaths, covenants, agreements, and secret abominations, and signs and wonders
28 there is a curse upon all on this land that work darkness and are ripe - they will be destroyed
29 keep these secret plans, oaths, covenants from this people
31 cursed be the land forever unto those workers of darkness and secret combinatinos
32 trust not these secret plans unto this people
Ensign 1974
- what the scriptures say about witchcraft, sorcery, magic and the power of the evil one
They murder the chief judge:
3 Nephi 7:1-3,6-8
They murder the chief judge but no one trusts anyone anymore - the divide against themselves into tribes and no longer have a centralized govenment.
They become wicked once again and almost all the people had yielded themselves unto the power of satan.
3 Nephi 7:9-13
The secret combination that killed the chief judge gathered together as one - unified but were not strong enough to gain control so they fled into the wildeness.
Conclusion:
What can we lean from this?
Why did they fall away so fast? Why did they throw away what they knew for the things of the moment?
8 There are many things that have happened that cannot be written in this book - even 100th part
12 I am Mormon being called after the land of Mormon
13 I am a disciple of Jesus Christ - the son of God - and have been called of him to declare his word
14 So that the prayers of those who have gone before should be fulfilled I make this record
15 a small record - from Lehi until now
16-19 I make it according to the records I have and my own knowledge and life experiences
20 I am Mormon a pure descendant of Lehi - I have reason to bless god for the knowledge he has given us