The Plan of Salvation - Alma 39-42
Alma and his discussions with a wayward son...
The plan of Happiness
Attention Activity:
Have you ever had to counsel a child who was doing something that wasn't right?
video
Reclaimed
video Stay in the boat

How difficult was it to get them to understand?
Was the topic one that was difficult, distasteful, or caused you to be embarrassed?
Alma's Counsel to Corianton: (Write upon one board - as outline for lesson)
#1 Gives counsel concening his problems and exhorts to repentance Alma 39:1-15
#2 Why do we know of Christ so long before he come? Alma 39:16-19
#3 Teaches him about what happens after death before resurrection Alma 40:1-18
#4 Teaches him that the resurrection is a restoration to the individual of what they sent out Alma 40:19-26, 41:1-15
#5 Teaches him specific things concening justice in punishing the sinner based upon their own choices Alma 42:1-31
Alma's counsel to his son Corianton was somewhat different from his counsel to his other sons. Helaman and Shiblon had been living righteously, but Corianton had committed serious sins.
Alma 39:2-4
2 Thou didst not give so much heed to my words as thy brother - boasting in thy strength and wisdom
3 forsake the ministry, go after harlot Isabel
4 She did steal away the hearts of many - but this is no excuse for thee
5 This is more abominable above all save shedding innocent blood - or denying Holy Ghost
Quote #1:
Elder Boyd K. Packer
taught:
"There was provided in our bodies...and this is sacred...a power of creation, a light, so to speak, that has the power to kindle other lights. This gift was to be used only within the sacred bonds of marriage. Through the exercise of this power of creation, a mortal body may be conceived, a spirit enter into it, and a new soul bon into this life. This power is good. It can create and sustain family life, and it is in family life that we find the fountains of happiness. The power of creation...or may we say procreation...
is not just an incidental part of the plan: it is essential to it
. Without it the plan could not proceed. The misuse of it may disrupt the plan.
Much of the happiness that may come to you in this life will depend on how you use this sacred power of creation
. If [Satan] can entice you to use this power
prematurely, to use it too soon, or to misuse it in any way
, you may well lose your opportunities for etenal progression. Protect and guard your gift. Your actual happiness is at stake. Etenal family life ...can be achieved because our Heavenly Father has bestowed this choicest gift of all upon you...this power of creation. It is the very key to happiness"
(
Ensign, July 1972, 111-13
).
Why is the power of procreation such a sacred and important power?
What ways are we tempted to misuse this power?
video
Ponography and Addiction
11 How great iniquity ye brought upon the Zoramites - they would not believe my words after seeing your acts
13 Tun to the Lord with all your mind, might, and strength - they ye lead no more to do wickedly
13 Acknowledge your faults and the wrong you have done
Notice that Corianton's sinfulness influenced others more so than Alma's words did. They did not believe his words after seeing the actions of his children.

How can our actions affect the faith/belief of our children?
Sin isn't done to just ourselves - it can and will affect those around us. Everything we do has impact on ourselves, our spouse and our children.
Alma 39:9-14
Alma gave counsel to Corianton on how to repent of his sin and avoid such sins in the future:

9 Go no more after the lusts of your eyes - The things we choose to look at or pay attention to influence our determination to stay morally clean.
10 Counsel with your elder brothers - Counsel with parents and spouse can strengthen our resistance to sin
13 Tun to the Lord with all your might mind and strength.
14 Do not be led away by vain or foolish things - Satan will try and persuade us that these things aren't important or sacred
#2 Why do we know of Christ so long before he come?
Alma 39:15-19
16 Declaring the coming of Christ is the ministry you were called to
17 Why do we know these things so long before Christ comes?
18 the plan is necessary for all - now and in the past
19 Is it not as easy now as in the past for angels to declare these things?
What things do they declare unto men - the plan of salvation!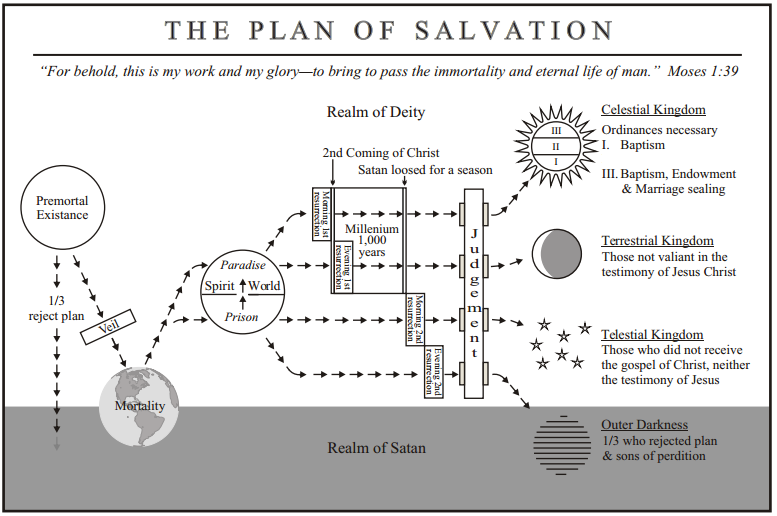 Let us quickly cover the plan of salvation and the information that alma teaches us concening what happens after we die.
Time frame for when the resurrection will occur:
Alma 40:1-2
Resurrection occurs after the resurrection of Jesus Christ
Alma 40:4-8
There is a time appointed unto all men to be resurrected exactly when specific to a person
What happens to a person after they die:
Alma 40:11-14
State of the soul between death and the resurrection - paradise/prison
Quote #2:
Protestant Beliefs:
The Protestant church rejected the idea of purgatory. The doctrine of purgatory originated in medieval Catholicism and is taught in the Roman Catholic tradition. Purgatory is believed to be a place where the souls of the faithful dead endure a period of purification and cleansing, aided by the prayers of the living, prior to their entrance into heaven. Although John Wesley believed in an intermediate state between death and the final judgment, that idea is not formally affirmed in Methodist doctrine, which "reject the idea of purgatory but beyond that maintain silence on what lies between death and the last judgment." (
Methodist Doctrine: The Essentials
by Ted A. Campbell)
Quote #3
Two Judgments
When we die, we undergo what is called the particular, or individual, judgment. Scripture says that "it is appointed for men to die once, and after that comes judgment" (Heb. 9:27). We are judged instantly and receive our reward, for good or ill. We know at once what our final destiny will be. At the end of time, when Jesus retuns, there will come the general judgment to which the Bible refers, for example, in Matthew 25:31-32: "When the Son of man comes in his glory, and all the angels with him, then he will sit on his glorious throne. Before him will be gathered all the nations, and he will separate them one from another as a shepherd separates the sheep from the goats." In this general judgment all our sins will be publicly revealed (Luke 12:2–5).
Interesting Note:
Right in the scriptures we have an opinion of a prophet - something he doesn't know for sure but is his opinion:)
Alma 40:19-20
I give it as my opinion that the righteous will resurrect at the time of Christ and his Ascension
The Resurrection is a Restoration:
Alma 40:23-26
Soul restored to the body, body to the soul - every limb and joint - perfect and proper frame
26 awful death cometh upon the wicked they die as to things of righteousness
26 They are cast out
Alma 41:2-7
It is requisite for the justice of God that the restoration occurs
3 works and desires good - restored to that which is good
4 works are evil restored unto them for evil
5 happiness according to desires - evil according to their desires
7 they are redeemed or fall - for they are their own judges
10 from sin to happiness wickedness never was happiness
11 all men in state of nature and sin - unhappy
12 restoration is not to change a thing but to restore a thing
13 restoration is to bring back evil for evil, good for good, mercy for mercy
14 therefore be merciful, do good, be righteous
15 restoration condemeth the sinner and justifieth him not at all
Justice of God in punishing the sinner:
Why is it just to punish the sinner - and an etenal punishment?
Why not just forgive them all?
Alma 42:1
It is injustice that the sinner should be consigned to a state of misery!
Setting the stage - starting with Adam:
Alma 42:2-4
Man fell and became as God's knowing good and evil - there was a probationary time for them to repent
Alma 42:5-6
If Adam had immediately partaken of the tree of life - no time for repentance - he would have been dammed!
Alma 42:9-11
The soul is immortal - the fall brought about death - it was expedient that man should be reclaimed from this death
Alma 42:12-15
12 There was no means to reclaim men from this fallen state - which they brought upon themselves
13 Therefore according to Justice - the only way was repentance and a preparatory state
14 All mankind cut off from God's presence
15 Atonement required to allow Mercy to be brought about to appease the demands of Justice
16 Punishment affixed etenal as the soul - in opposition to the plan of happiness
17 how can a man repent if there is no sin?
18 there is a punishment and a law
19 if a man murdered if there was no law should he be afraid?
20 if there were no law men would not be afraid to sin
21 if there were no law what could justice do... or mercy?
22 there is a law given and a punishment affixed
23 God ceaseth not to be God - justice and mercy perfected through the atonement/resurrection
24 Justice is fulfilled
25 can mercy rob justice? Nay
26 Thus God's purposes are fulfilled as planned from the beginning -
27 Whoever will can come and partake of repentance and remission of sins freely
28 if he has desired evil - and has not repented - evil shall be done unto him
29 Do not let these things trouble you - except unto repentance
30 O my son - do not deny the justice of God - or excuse yourself in sinning
31 O my son - go preach these things unto the people