The Tender Mercies of the Lord
The Purpose of the Book of Mormon is to persuade all men to come unto the God of Abraham and be saved
The Lord Supports/Protects/Empowers those that obey him

Nephi is supported and protected

Those who rebel against God are left to themselves or even cursed

His brothers are left to their own strength
This lesson explains how the Lord supports and protects his servants. The story of Nephi and his brothers in their attempt to get the plates is an example of this principle.
Scriptural References:
All things according to his will
Bednar - Tender mercies of the Lord Video - Jan 2015
What is a tender Mercy according to this video?
personal and individualized blessing/strength/consolation, and spiritual gifts we receive through Jesus Christ
The Holy Ghost - and Jesus Christ will come to them - through his tender mercies
Faithfulness and obedience allows us to receive these tender mercies
The Book of Mormon itself explains how the "Tender Mercies of the Lord" are provided to those that come unto the God of Israel.
The Purpose of the Book of Mormon
1 Nephi 6:4 - Persuade all men to come unto the God of Abraham and be saved
1 Nephi 1:20 - Tender mercies of Lord - unto those whom he has chosen - make them mighty unto deliverance
What is the stated purpose of the Book of Nephi - Proper - as stated in the book
To show to the reader that:
Persuade all men to come unto the God of Abraham and be saved

The Lord supports/protects/empowers those he has chosen - they are the ones who should rule

The Lord curses/destroys/does not help those who do not serve him
The Lord supports/protects/empowers those he has chosen - they are the ones who should rule
Nephi is chosen to rule because he is chosen of the lord - and obedient
... I, Nephi, will show unto you that the tender mercies of the Lord are over all those whom he hath chosen, because of their faith, to make them mighty even unto the power of deliverance. (Ancient American Codex)
The Lord curses/destroys/does not help those who do not serve him
Historical Background before Book of Mormon - Politics and War
609 B.C.
King Josiah
Josiah lost his life at the Battle of Megiddo in 609 B.C., leading his armies to stop the advance of the Egyptians, under Pharaoh Nechoh, toward the Euphrates. Nechoh gained control of Judah's political life.
609 B.C.
Jehoahaz
Son of Josiah. Became king at his fathers death. Because of wickedness and Intrigue Nechoh took him away to Egypt and put his brother Eliakim on the throne. His name was changed to Jehoiachin. He reigned 11 years.
598 B.C.
Jehoiakim
Jehoiakim was bound and carried away to Babylon by Nebuchadnezzar along with thousands of others.


Jehoiachin
Jehoiakim's son allowed to rule as a vassal king of the Babylonians. He reigned only three months and then was summoned to Babylon along with "

ten thousand captives, and all the craftsmen and smiths.

" 2 Kings 24:11-17 - Nebuchadnezzar, Assyrian siege of Jerusalem
598 B.C.
Zedekiah

Jehoiachin's uncle, Mattaniah began to reign in his stead. His name was changed to Zedekiah. Book of Mormon history begins in the first year of Zedekiah's reign. According to Bible chronology, that was in 598 or 597 B.C.

Jerusalem left in a vacuum with few men of valour, smiths or leaders.



The Prophets
Nephi wrote that "there came many prophets prophesying unto the people that they must repent, or the great city of Jerusalem must be destroyed" (1 Nephi 1:4). Lehi's contemporaries included Jeremiah, Huldah, Zephaniah, Habukkuk, Ezekiel, and Urijah of Kirjath-jearim.


Lehi's Home
According to 1 Nephi 1:4 and 1:7, Lehi and his family were living at Jerusalem. The preposition "at" in this case could mean on, in, within, close by, or near. In fact we learn that his house is some distance from Jerusalem proper. Any satellite towns or villages that surrounded larger population centers were regarded in ancient times as belonging to those larger centers. That Lehi and his family lived outside of Jerusalem proper is evidenced in the account of the sons' attempt to obtain the plates with their abandoned wealth: "We went

down to the land of our inheritance

, and we did gather together our gold, and our silver, and our precious things. And after we gathered these things together,

we went up unto the house of Laban

" (1 Nephi 3:22-23).
Interesting Points of Note:
Jerusalem had been sacked and the people taken away from it twice in the last 20 years of Lehi's life at Jerusalem. All of the mighty men of valour and smiths had been removed from Jerusalem during this time. This would have left a leadership and craftsmen vacuum in the area which would have had a great impact on the remaining populace.
Nephi Introduces Himself
The Language of his father - with the learning of the Jews
I have been taught how to write the Hebrew way: Look for this in this book!
a yea, having had a great knowledge of the goodness and the mysteries of God,
b therefore I make a record of my proceedings in my days.
c Yea, I make a record in the language of my father
d which consists of the leaning of the Jews
c and the language of the Egyptians
b And I know that the record which I make is true: and I make it with mine own hand:
a and I make it according to my knowledge.
This basic poem shows that Nephi desired the knowledge of God, that his father could be considered an Egyptian in that his language was Egyptian, but that Nephi had also learned from the Jews and would use that in his writing. As shown in the very first couplet in the book.
Egyptian
The Language of his father - Egyptian? That's an interesting point...? notice that it doesn't say his fathers - meaning his ancestors.
During this time there was a great deal of trade that went through Palestine from Egypt. (Perhaps a Merchant?)
While Judah was under Egyptian domination, military personell were provided by Judah - who could have learned Egyptian...
Did Lehi Use Egyptian? - Ben McGuire (fair mormon site)
The name of Nephi
He Named his son Nephi an Egyptian name?
1 Nephi 1:1 -Nephi's Name: Goodly - in Egyptian
John Gee has proposed that Nephi is the Egyptian name Nfr (Nefer), in its Semitic form Npy. "beautiful, good, perfect"

(Nfr)
"Notes and Communications—A Note on the Name Nephi," Jounal of Book of Mormon Studies 1/1 (1992): 189–91. Gee
"I Goodly being born of Goodly Parents... " wordplay in the very first sentence.. the build up of his parents as well as explaining why he is who he is.
The Aftermath - Zedekiah made king in Jerusalem - Where was Lehi?
1 Nephi 1:4 - Lehi in the first year of the reign of Zedekiah has a vision of Jerusalem
Where was Lehi?
Why wasn't he carried away captive? (a tender mercy of the lord not recorded in BOM? :))
We don't know... but there are a lot of possibilities.
He and his family were visiting Egypt - where he had gone to before or been taken there from the previous invasion?
Perhaps because of his occupation? (metal smith/trader/?)
Where did Lehi Live
Lehi's inheritance was quite a ways away from Jerusalem proper. Jerusalem is on a hill -
1 Nephi 3:22 - they went down to the land of their inheritance then up to Laban
There was a huge vacuum in the Jerusalem area with all the major individuals of the land taken away captive. This was the time when Lehi had his vision concening the people.
1 Nephi 1:5-16 - Lehi's initial vision
What do we know about Lehi?
He was a visionary man - and a man of faith 1 Nephi 1:5-6
He is a bit wordy - and can go on a bit 1 Nephi 8:29, 8:36-37
He is of the tribe of Manasseh (Alma 10:3)
The tribe of Manasseh/Ephraim was located North of Jerusalem and South of the Sea of Galilee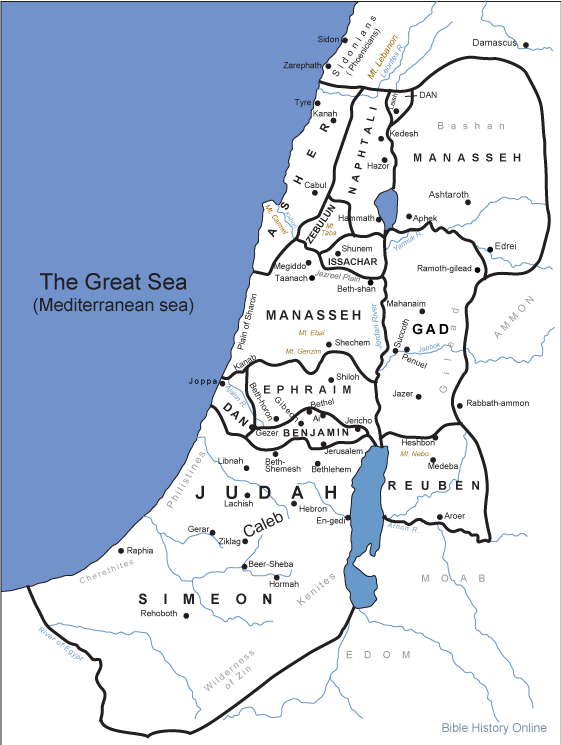 This area was known as Samaria during the time of Christ.
Lehi dwelt in Jerusalem all his days (1 Nephi 1:4)
He knew Egyptian as well as Hebrew (1 Nephi 1:2)
He named his son an Egyptian name - Nephi
He owned property outside of Jerusalem (1 Nephi 3:16,25)
Probably an occupation - that used languages/travel tents (Nephi knew metals - and could make a sword) etc.
He was a record keeper - He wrote down his visions (1 Nephi 1:16-17)
He was faithful - in spite of persecution (1 Nephi 2:1)
His faith wavered under - hunger and hardship (1 Nephi 16:20)
He repented and led his family well (1 Nephi 16:25-27)
His last words to his sons (1 Nephi 2:28-30)
Father Lehi - Byu Speaches
Lehi's Ministry among those of Jerusalem
1 Nephi 1:18-20 - Prophecy of their destruction - and of the Messiah - they mocked him - angry with him - tried to kill him
Why would they mock him about the destruction of Jerusalem?
(all the people had already been taken... why would they come and destroy it... etc.)
The words of the prophets are almost always unpopular - why?
Lehi flees into the wildeness - sends boys back to get the Plates of Laban
1 Nephi 2:1-4 Lehi leaves - taking nothing but his family, provisions, and tents
1 Nephi 2:6-8 Lehi arrives in valley of Lemuel
Lehi's jouney to the Promised Land - Ensign Sep 1976
Lehi's Jouneys - BYU Religious Studies
Possible Valley of Lemuel - Foundation of Ancient America
Laman and Lemuel Murmur in many things against Lehi
1 Nephi 2:11-13 What they complained about
Visionary Man, led them away from their gold and silver, to perish, knew not God
Were they justified in their complaints?
Do we complain when things get hard... how can we avoid murmuring?
1 Nephi 2:14-15 Lehi confounds the brothers - they shake before him
Nephi desires to know mysteries of God
1 Nephi 2:16-18 Nephi prays - the lord visits him - Sam believes, Brothers do not
How was this a "Touch Point" to Nephi - did it affect the rest of his life?
How can we maintain in rememberance these types of "Touch Points" in our life?
(jounals, family histories, telling stories to children)
Lehi sends his sons back for the plates:
1 Nephi 3:1-6 Laman, Lemuel were first told of the command of the Lord - brothers murmur - Nephi does not
1 Nephi 3:7 - I will go and do - lord will provide a way - See back to basic theme 2 of book
Why did they need these scriptures?
1 Nephi 3:3, 19–20 Geneology of Lehi's forefathers - preserve language, preserve prophets words
1 Nephi 4:15–16 Could not keep Law of Moses without them
1 Nephi 5:21–22 Preserve commandments of the Lord for children - wise to have them
Mosiah 1:3–7 Without these plates - we would have been ignorant of the mysteries of God - we would have dwindled
They attempt to get the plates from Laban - (A Talk about how the Lord prepares a way - based upon this story)
1 Nephi 3:11-14 Brothers Cast Lots - Lot falls to Laman - He talks to Laban - he flees for his life
1 Nephi 3:15-16 As the Lord Liveth, and as we live - we will not retun without them
1 Nephi 3:22-27 They take their gold and silver to give to Laban for the plates - they loose it all - and hide in a cave
1 Nephi 3:28-31 Laman and Lemuel Beat their brothers with a rod - Angel comes - He is your ruler? - they murmur again
Why did the attempt to purchase the Plates fail?
Were they being directed by revelation in how to get the plates? If not... why? They asked via Lots - like they should...
Belief in Lots as a manner of gaining Word of the Lord
In old testament times you will see this used often to determine the will of God - The Lord adjusts the lot to what he wants it to be.
It was a means of divination/revelation back in those times.
What was Curious about Nephi's response to the brothers desiring to retun without the plates?
Blood-Oath - by my life
The phrase used here is a life oath - as I live I will never return without them - it was one of the strongest oaths in old testament times.
The Lord uses this type of oath in scriptures: Ezek 17:16,17:19, Jer 46:18, Num 14:28, Ezek 20:33, Rom 14:11, Zeph 2:9, D&C 32:1, Moses 7:60,
This was used again when speaking and talking with Zoram - 1 Nephi 4:32-33 - Zoram makes an Oath with them 1 Nephi 4:37
Why did Laman and Lemuel Murmur after seeing an Angel?
1 Nephi 3:31 - How is it possible that the Lord will deliver Laban into our hands...
How can we also not have spiritual evidence make an impact on our testimony like they did?
What role did doubt - have in the strengthening/weakening of the impact of this evidence on them?
What role do doubts play in our faith? What should we doubt? What shouldn't we doubt?
The use of a Rod
The rod used when beating their brothers - a stick a limb - small branch of a tree - willow whip
Why were they using a rod and not their hands?
The rod was a small stick/walking stick used to discipline children - Laman and Lemuel were disciplining children.
Prov 13:24, Prov 23:13-14, Prov 29:15
They try again - Nephi goes alone - Notice themes throughout story
1 Nephi 4:1-4 Let us go up and be strong like Moses - The lord strengthened him - #2
1 Nephi 4:6 I was led by the spirit not knowing beforehand what I should do #2
1 Nephi 4:7-9 Nephi sees Laban, recognizes him, sees armor and sword
1 Nephi 4:10 Constrained by the spirit that he should kill him - He didn't want to kill him #3
1 Nephi 4:11-13 Spirit said again - delivered into your hand - sought your life - would not listen to God #3
The lord slayeth the wicked to bring forth his purposes - better that one should die - than a nation dwindle Theme #3
1 Nephi 4:14-18 Why he killed him - so children could keep law
1 Nephi 4:19-27 Meets Zoram - together they go get plates - take them outside the walls
1 Nephi 4:28-38 Meets brothers - they are afraid - Zoram makes an oath to go with them
What was different between this attempt and the previous one?
A Sample of the Themes of the Book
Consider the three themes of the book - this attempt matches theme #2 mighty unto deliverance
The Lord strengthens those who trust in him and are obedient - and theme #3 the wicked are not supported
Why did Nephi go alone? Wouldn't it have been better for all to go... why not?
How does this question also apply to the themes of the book. Nephi would be strengthened but what if those with him had no faith?
Why did Nephi Kill Laban - was this Murder? If not... why?
The Lord gave Laban at least two chances to part with the brass plates before requiring his life. Laban was a liar and a robber, and he had at least twice sought to murder. Under the law of Moses, stealing and attempted murder could both be punishable by death Exodus 21:14; 22:2;Deuteronomy 24:7
Some people have incorrectly felt that the Spirit of the Lord has prompted them to do something contrary to what the Lord has previously commanded.
How can we be protected and know what we do is in accordance to God's will:
#1 What do the standard works have to say about it?
#2 What do the latter day Presidents of the Church have to say about it?
#3 What does the Holy Ghost Tell you - only effective if on'es channel is open and we are clean and virtuous
Ezra Taft Benson - Oct 1963, pg 16-17 Conference Report
Sariah's Trial
1 Nephi 5:1-2 Sariah Mouns - she supposed we had perished - Lehi is visionary man - left land of our inheritance - we will die
1 Nephi 5:4-6 Lehi's Response - I am a visionary man, comforted his wife,
1 Nephi 5:8 Now I know that the Lord hath commanded my husband to flee - delivered my sons
1 Nephi 5:9-10 They offer sacrifices and give thanks
What was the difference between how Sariah leaned Lehi was a Prophet, and how Nephi did?
Evidence of her sons successful retun from Jerusalem with the plates - vs spiritual evidence through prayer.
Why didn't she know like Nephi did?
How did Sam believe? 1 Nephi 2:17 - He believed the words of Nephi D&C 46:13-14 (Gift to believe on them)
How do we gain a Testimony
There are many ways to gain a testimony of the truthfullness of a thing - these are just a few.
Is either way weaker than another? Once we have a testimony - conversion is required.
Nephi and brothers retun to get Ishamel and his family
1 Nephi 7:1-3 Nephi and brothers should retun to get Ishamel - No complaints?
1 Nephi 7:4-5 Lord softens Ishamels heart - he comes with them
1 Nephi 7:6-7 Rebellion - Laman/Lemuel 2 daughters, 2 sons rebelled against - Ishmael, Nephi , and Sam
1 Nephi 7:8-15 Nephi's response - lol...
1 Nephi 7:16 They seek to have wild beasts kill him - Theme #2
1 Nephi 7:17-18 ropes loosed from his hands/feet Theme #2
1 Nephi 7:20-21 They asked his forgiveness Theme #3
Notice the manner in which Nephi spoke to his brothers (8-15)
What is unusual about this method of speaking?
How is it ye have... Emphasis of Theme #2, #3 during this speach.
Was their reaction unexpected? How do we react when we receive chastisement?
What is the first reaction of most people be being told they are being stupid, rebellious, etc.?
What was unusual about Nephi's response to their asking for forgiveness?
Can we frankly forgive people who have done wrong to us?
What about those who just attempted to have us killed by wild beasts?
Conclusion:
The stories of Nephi in these first few chapters of his book can tell us a lot about him as a man as well as what he finds important. We can take the themes he presents and apply them to our life.
Persuade all men to come unto the God of Abraham and be saved

The Lord supports/protects/empowers those he has chosen - they are the ones who should rule

The Lord curses/destroys/does not help those who do not serve him
Do we try and persuade our children to come unto Christ and be saved as he is in this account?
Do we also believe that we will be supported/empowered and protected if we follow in faith the things he asks us to do? Even when they are hard?
I testify that these are true principles and that we can receive help/assistance in our daily life as Nephi did of old. We need to put our trust in the arm of the Lord and recognize the tender mercies that occur in our life has he touches and helps us overcome adversity, trials, sickness and weakness.
Appendix:
Nephi when composing his book - noticed pattens in his life - repeating pattens that could be used to emphasis his vision of Jesus Christ
How important do you think he considered the even recorded in 1 Nephi chapter 11.
It would seem to me it was one of the most important events of his life.
Book of Mormon - Hebraic Poetry
Poetic Form of 1st Nephi:
Notice that the Main Emphasis is His vision where he sees the life of Jesus Christ!
a Lehi's dream leads him to prophesy wanings to the Jews (1 Ne. 1)
b The departure from Jerusalem (1 Ne. 2)
c Nephi accomplishes a great feat in obtaining the brass plates of 1 Nephi 3:7; the brothers are confounded (1 Ne. 3-5)
d Ishmael joins the group with his daughters (1 Ne. 7)
e The tree of life (1 Ne. 8)
f Nephi is commanded to Make 2 Plates of Nephi - wise purpose - he accomplish his purposes (1 Ne 9)
g Lehi prophesies about the Old World and the coming of the Lamb (1 Ne. 10)
h
Nephi and his vision of Jesus Christ
(1 Ne. 11)
g Nephi prophesies about the New World and the coming of the Lamb (1 Ne. 12-14)
e The tree of life interpreted (1 Ne. 15)
f Liahona will only guide them if they pay attention to it - small means bring great things (1 Ne 16:26-29)
d The sons of Lehi marry the daughters of Ishmael and Ishmael dies (1 Ne. 16)
c Nephi accomplishes a great feat by building a ship of 1 Nephi 17:3; the brothers are confounded (1 Ne. 17)
b The departure from the Old World (1 Ne. 18)
a Nephi wans the Jews and quotes the prophecies of Isaiah (1 Ne. 19-22) - Ensign Feb 1972 - John W. Welch
When was the Book of Nephi Written?
2 Nephi 5:28-33 30 years after we have left Jerusalem
1 Nephi 1:4 - 1 Nephi 9:1-3 is an abridgment of Lehi's record
1 Nephi 10:1 -> is Nephi's account and Nephi's record
1 Nephi 19:1-2 Nephi fashions his large plates after arrival in the new world
1 Nephi 19:3 concening reign and ministry (he would have to already be king) 2 Nephi 5:30
Small plates were written:
After death of Lehi
After separation of Nephi from his brothers
After they had fought with his brothers
After the reign of kings were established
After he had a group of people - he called his people
Another reason why the book may have been written.

Emphasis of theme #2,#3 in regards to the legitimacy of Nephi's right to be the ruler of his people.
1 Nephi 2:16-24, 3:29
Those who rebel loose those privileges
In order to set a historical perspective to his claim to leadership, Nephi includes several stories in 1 Nephi which illustrate the fact that God makes covenants with those who humbly seek him (more specifically Lehi & Nephi). And as they are obedient to those covenants in overcoming trials, the Lord chooses them to "reign" ("rule over") and "minister" to ("teach") [see 1 Nephi 2:16-24; 3:29] their brethren. Those who murmur and rebel (specifically Laman and Lemuel) against the chosen leaders of the Lord (Lehi and Nephi) lose the blessings passed down from those who "reign" and "minister" over them. The stories in 1 Nephi are as follows:
1. Nephi supports the prophet of God [Lehi] as he leads them into the wildeness and seeks to know the things of his father. (1 Nephi 1-2)
2. Nephi does the Lord's errand and obtains the word of God [the brass plates]. (1 Nephi 3-5) [see the chiastic analysis of 1 Nephi 3-5].
3. Nephi seeks Ishmael & his daughters that they might "raise up seed" unto the Lord. (1 Nephi 7)
4. Lehi's Tree-of-Life vision portends the future for his seed. Nephi partakes of the fruit; Laman & Lemuel don't. (1 Nephi 8)
5. Nephi seeks further light & knowledge regarding the vision of his father and his wish is granted. (1 Nephi 10-15)
6. Nephi becomes an instrument in the Lord's hands, being directed by Lehi & the Liahona in his search for life sustaining nourishment. (1 Nephi 16)
7. Directed by the Lord, Nephi constructs a vessel that will carry his family to the promised land. (1 Nephi 17) [See the chiastic analysis of 1 Nephi 17]
8. Despite the storms & forces destined to sink them or throw them off course, Nephi remains faithful and leads his family to the promised land. (1 Nephi 18)
9. Nephi teaches his brothers concening the words of the prophets such as Moses, Isaiah, and Joseph. The reader should note that Nephi has structured his stories and writings so as to patten his "reign" and "ministry" with the words and actions of those prophets (1 Nephi 19-22)
Thus Nephi's "reign" as well as his "ministry" began well before the time chronicled in Second Nephi when his people "would that [he] should be their king" (2 Nephi 5:18).
Additional References:
Commentary on 1st Nephi - Neal Rappleye