The Visions of Lehi and Nephi - part I
The vision of Lehi and Nephi represent their lives - prophetic dreams
This dream can also relate to us an our lives and the path we take through life
A study of this lesson can help us more fully understand Lehi's vision of the Tree of Life. It will encourage us like Nephi to see this vision for ourselves and understand its meaning in our life.
Have you ever had a dream that has come true? What is a prophetic dream?
Examples of Prophetic dreams:
Gen 37:5-11
Joseph sees his brothers bow before him in two versions
There are many other examples in the bible of this...(see appendix)
The vision of the tree of life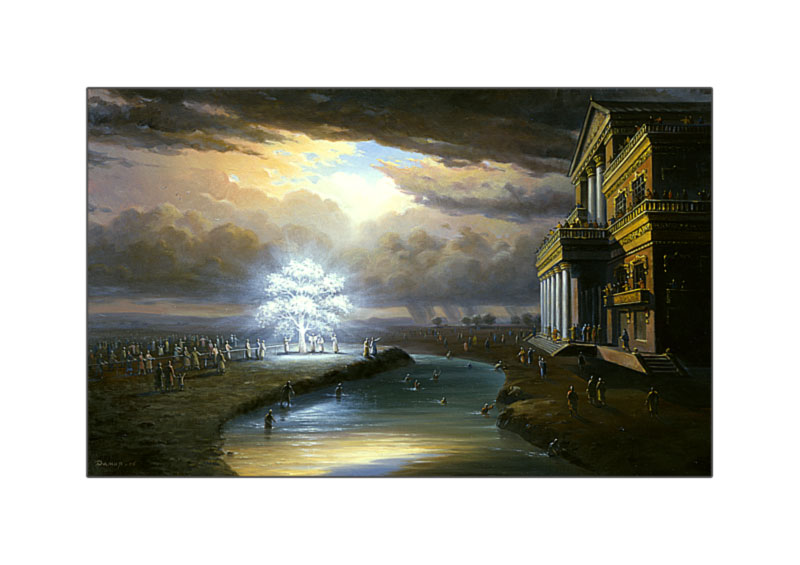 1 Nephi 8
- Lehi's account of the Tree of Life
1 Nephi 11-12
- Nephi's account of the Tree of Life
He Lives video -
Testimony of the Apostles
Lehi's vision - parable endure to end -
Ensign Apr 2015
Lehi's vision - endure to the End -
Youth Hang in there
Lehi's vision and you -
New Era Jan 2015
Tree of Life References:
The Tree of Life in Ancient Cultures -
Ensign June 1988
Tree of Life - Lehi's shared vision -
Ensign Sep 1996
Tree of Life - key to a virtuous life -
Ensign Apr 2009
Spacious Building - One among the Crowd -
Ensign Apr 2008
Iron Rod - The Word of God -
Ensign Apr 1971
Joseph Smith Senior's Dream - like Lehi's
Fair Mormon site
The vision of the Tree of Life is a Prophetic vision - Lehi interprets it as such
1 Nephi 8:3-4
Chiasmatic form of 1 Nephi 11:1-6 (There are many others throughout both visions here is an example)
I desired to know the things my father saw (1)
I believed the Lord could show them to me (1)
I pondered – was caught away unto a mountain – high above the earth (1)
Spirit asks what I desire (2)
I said: I desire to see my father's vision (3)
Do you believe your father saw the tree? (4)
Yes, you know I believe all my fathers words. (5)
When I had spoken this (6)
Spirit cried with a loud voice (6)
Hosanna to the Lord – God above all (6)
Blessed are thou Nephi – because you believe in the son of God (6)
Wherefore you shall behold the things you have desired.(6)
He is interpreting this vision as a representation of his life, and the life of his family.
Let us dive into the vision of the tree of life and its prophetic implications and conclusions.
As we read from 1 Nephi chapter 8 we will occasionally go to 1 Nephi 11 or 12 and compare and contrast Nephi's vision with Lehi's.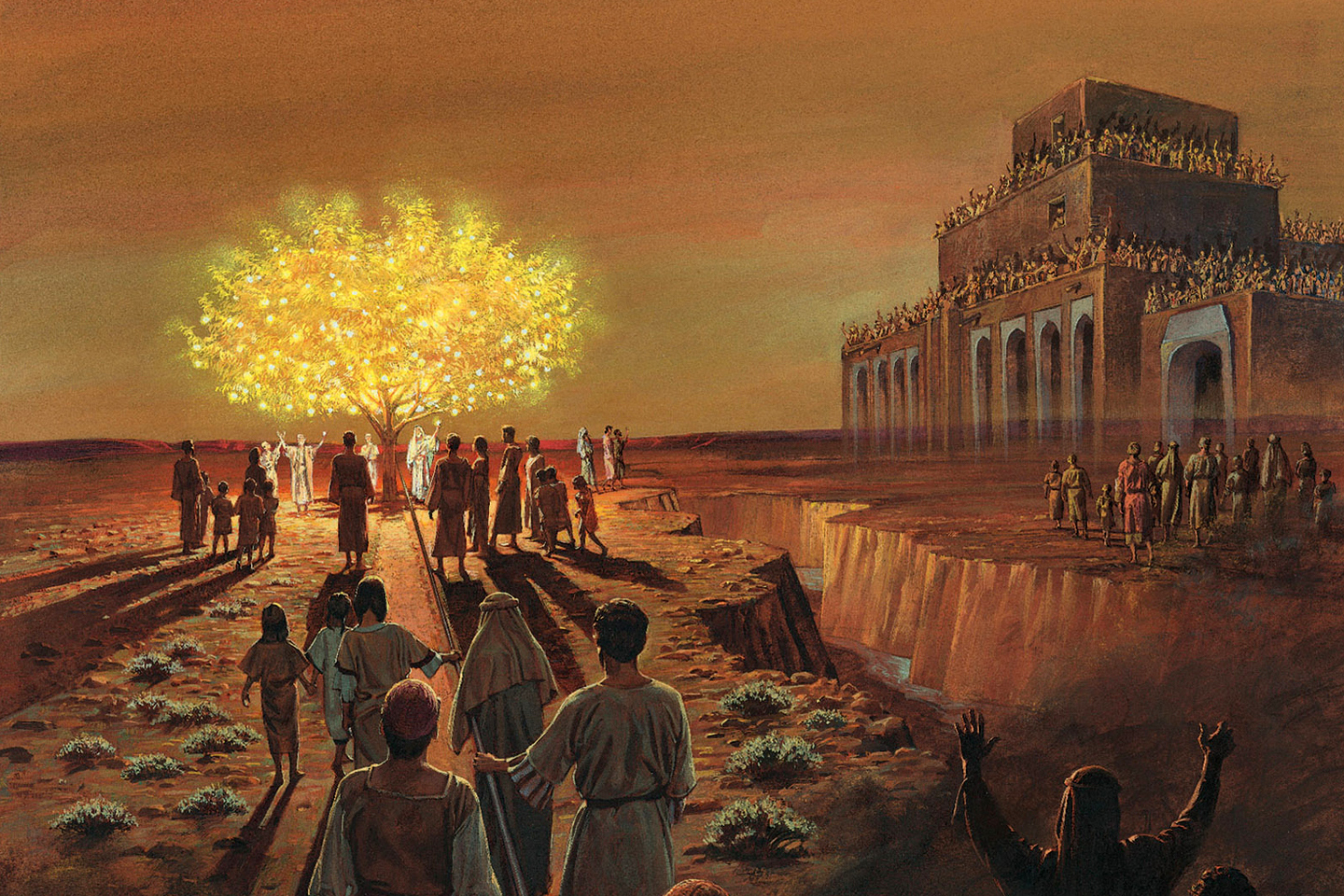 Angelic guide - during the vision
Why did Lehi and Nephi have an angelic guide through their experience with the vision?
What guides do we have to make the proper interpretation of our experiences?
Dark and dreary waste:
Notice that Lehi was wandering for many hours in darkness - before he prayed to the lord to have mercy upon him. After he prays to the lord that is when the vision opens to his view and he began his own personal jouney to the tree.
If this is a prophetic vision what can we lean about Lehi from this?
Does this represent the time before his vision of the pillar of fire upon the rock... its an interesting consideration. Perhaps he himself was afraid because of what he had seen?
1 Nephi 1:5-6
- He quakes and trembles because of what he sees and hears (
1 Nephi 16:18
)
The Fruit of the tree
What was Lehi's first thought after partaking of the fruit?(His family should eat this also)
Do we feel this way?
Is our first thought when meeting someone who isn't a member of the church that wouldn't it be great if they were?
If not why?
What greater insight do we get from Nephi's account of his vision? (
1 Nephi 11:20-23
) the interpretation :)
Why did Laman and Lemuel not eat the fruit?(they would not)
1 Nephi 2:12
they knew not the dealings of that God who had created them
1 Nephi 15:8-9
We have not prayed - the Lord maketh no such things known unto us
Do we seek after knowledge - or do we doubt everything we hear?
Separation from Family - foreshadow
Notice that Laman and Lemuel were sperate from the rest of the family... what is this a foreshadow of?
2 Nephi 5:3,6
Nephi flees into the wildeness (Zoram, Sam, Jacob, Joseph, his sisters- those who believe revelations.
Fun question... did Sariah go with Nephi.
(She probably did... but we don't know) (The Sariah you don't know -
LDS Mag
)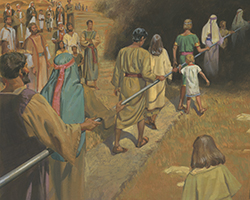 What does the Rod of Iron Represent?
(Word of God - Scriptures, Holy Ghost - Prophets etc.)
Notice the wording Nephi uses when describing the people - "Caught Hold", "Press Forward", "Clinging to the Rod"
Doing what is right is not always easy... and requires effort.
What does the Mists of Darkness Represent?
(Temptations of the Devil)
How do they relate?
If we hold on to the Rod of Iron we pass through the temptations - notice they aren't removed, we have to pass through them.
How do they blind the eyes and confuse us if we don't hold onto the Rod of Iron?
It can be easy to be deceived and make a mistake if we don't base our decisions upon revelation and scriptures.
What do you think forbidden path's mean?
What would be some examples of forbidden path's...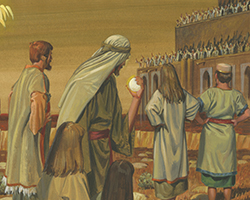 After they partook of the fruit of the tree - they were ashamed. Why? (they heeded the mocking and sconing...)
How can we be ashamed of the Gospel of Jesus Christ?
Rom. 1:16
Do we ever hide that we are members of the church? If so... why? (Remember they had the fruit...)
Have you ever been Mocked, Sconed, Shunned or treated badly because you believe in Christ?
What should our response be in these situations - do we respond in kind?
What do you think Laman and Lemuel thought about all this?
It seems like they were always being preached to, and told that what they were doing was wrong etc.
I'm sure that didn't help any among their family dynamics:).
Notice the Four groups of people spoken of in this narrative.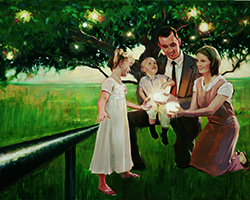 This vision is not just about Lehi and Nephi and his family, but can be directly correlated to our lives.
We will all have to pass through the trials of this life... will we maintain our integrity, faith, and religion when we have difficulties.
Do we Stand by the Tree with our families - and maintain our integrity and covenants?
Conclusion:
There are many voices and theories of men out there that can cause individuals to doubt their faith in the gospel of Jesus Christ. We must all make the decision on what and who to listen to and believe. The vision of Lehi, and Nephi provide good counsel for us on how to make it through the difficulties of life and obtain the Love of God in the form of the Tree of Life. Their counsel is to Press Forward, Catching onto the Word of God, Clinging to the truth's of the gospel until the end of our lives. We also need to Heed not the sconing, mocking and persecutions of those who may attempt to dissuade us from a belief in God and Jesus Christ. However, just making it into the presence of the Tree is not enough we need to partake of the fruit in humility, serving our fellowmen as Jesus would do if he were here. We need to become true disciples of Jesus Christ and not be affected by the sconers, mockers and others who attempt to persuade us that we are being stupid, blind, lame or ignorant. I know that it is through this process we can gain, and maintain our knowledge concening who Jesus was, why he was on the earth and the "Plan" God has for all of us.
32 Yea, come unto Christ, and be perfected in him, and deny yourselves of all ungodliness; and if ye shall deny yourselves of all ungodliness, and love God with all your might, mind and strength, then is his grace sufficient for you, that by his grace ye may be perfect in Christ; and if by the grace of God ye are perfect in Christ, ye can in nowise deny the power of God.
33 And again, if ye by the grace of God are perfect in Christ, and deny not his power, then are ye sanctified in Christ by the grace of God, through the shedding of the blood of Christ, which is in the covenant of the Father unto the remission of your sins, that ye become holy, without spot.
Appendix:
Dreams/Visions as a method of gaining knowledge
Nebuchadnezzar
Daniel 2:31–45 dreamed of large statue - each part made of different material
D&C 65:2 Final stone cut out of mountain - will fill the whole earth
Pharaoh
Genesis 41:17–31 dreamed of seven lean and seven fat cattle - represents famine coming
Peter
Acts 10:9–16, 28, 34–35 sees unclean animals lowered from heaven in a great sheet
Joseph F. Smith
D&C 138 Ponders on scriptures - sees vision of Jesus visiting spirit world
John - Revelation
Rev 4:1-2 Sees vision of door open in heaven - in the spirit - and saw
Paul
2 Cor 12:1-5 I knew a man - caught up into the third heaven - in or out of body? - heard unspeakable things
Joseph Smith & Sidney Rigdon
D&C 76:19-20 While meditating upon scriptures - vision opened to their view
Many Others -
Izupa stela -5 showing tree of life - Mormon Myth?
"Tree of Life" carving from Chiapas, Mexico - June 1985 Ensign
Probably not actually the "Tree of Life" - Jounal of Book of Mormon - BYU Edu (Wiki Izapa Stela 5)