There is a God in heaven - Korihor the anti-Christ Alma 30-31
There is a God!
Introduction:
Last week we talked about being converted unto the Lord and the steps by which the anti-Nephi-Lehi's were converted.
1. They entered into a covenant and became disciples of Jesus Christ
2. They were firm in their values - they stood together and maintained their values to the end.
3. They removed the things from their lives that would tempt them to commit sin.
4. They relied upon God and his salvation - even to the end of their lives
5. They showed a powerful example and were true to their faith
6. None of those who were hardened - who once knew the truth - were converted.
This week we will talk about individuals who purposefully attempt to destroy the faith of another. These are called "Anti-Christs" and we have them among us in our nation today.
Attention Activity:
What is an Anti-Christ? Do we have them among us today?
Guide to the Scriptures:
Anti-Christ
Q1 -
Anyone or anything that counterfeits the true gospel plan of salvation and that openly or secretly opposes Christ. John the Revelator described the antichrist as a deceiver (
1 Jn. 2:18–22
;
4:3–6
;
2 Jn. 1:7
). The great antichrist is Lucifer, but he has many assistants, both spirit beings and mortals.
Video:
Korihor - the Anti Christ
:
Alma the Younger - Confronts Korihor
What is Ironic about this story...
isn't this man like Alma the younger in his younger days, isn't this exactly what he had done earlier?
What was the attitude of Alma and Korihor toward each other?
Is this Hypocrisy? If not why?
Let us look at his arguments one by one:
1. You cannot know of things you do not see: vs 15
Have you heard this Phrase: "
Seeing is Believing
" Is this true?
Must we see to believe? Can our eyes be deceived?
Your eyes can deceive you
In what way is this a weak and simplistic argument?
Here are two common examples of optical illusions:
optical Illusions
Which line is longer a or b - answer: neither they are the same length.
Which circle is darker the one on the left or the one on the right - answer: neither they are the same color!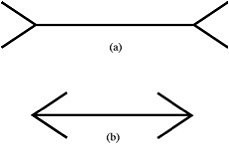 In science there are many, many things that are not seen and yet are believed.
Gravity - Atoms - Shape of Molecules/Atoms - Dark Energy, Dark Matter, Multiple Universes, String theory, Big Bang, Black Hole, Evolution, etc.
These things are
not in general seen directly
, but rather are
inferred because of the behaviors of other things
, Yet Science "
Believes
" that they are real.
Yet we are counted as being deceived because we "Believe" without "Seeing". Yet in some cases even though men "See" they won't believe!
In a court of law - the worst form of evidence is "Eye Witness" evidence - because of bias, mis-interpretation, and mis-understanding of what actually occured. Our beliefs are not based soley on eye witness testimony we all should gain our own witness through the spirit of the truth!
Q2 - Here is some good advice concening evidence! Think of the Media when considering the following!
"And just as our eyes can deceive us in optical illusions, our brains can deceive us when we are making choices that are framed in different ways, or comparing options that have been presented in different sequences or contexts. There is really no way around it other than to be aware of it – and to take a moment before committing to a choice to really think about what it is you are choosing and why you are choosing it.
So, the next time you make a choice, stop a moment and consider: What is my point of comparison? What are the other options? And are they influencing my perception in a way that is not immediately obvious? Am I looking at two identical lines, or two identical squares, and perceiving them as different? And if so, what can I do about it?"
optical Illusions
- Maria Konnikova
2. Your belief in the scriptures/atonement is because of a frenzied/deranged mind. vs 16
Do some people say that individuals who believe in religion are deranged - fanatics? Yes!
What does it mean to be "Brainwashed" or "Indoctrinated"?
Q3
-
Definition
- Brainwashing
1 a method for systematically changing attitudes or altering beliefs,originated in totalitarian countries,
especially through the use of torture, drugs, or psychological-stress techniques
.
2. any method of
controlled systematic indoctrination
, especially one
based on repetition or confusion
: brainwashing by TV commercials.
Q4
-
Definition
- Indoctrinate
1. to instruct in a
doctrine
, principle, ideology, etc., especially to imbue with a specific partisan or biased belief or point of view.
2. to teach or inculcate.
3. to imbue with leaning.
Is belief in religion because we have been - "
Brainwashed
" to believe what we do? 86% of respondents said yes! -
debate.org
(many good comments here)
This is because of a basic misunderstanding of the terms described above. Religion
does not brainwash an individual
, it
indoctrinates
them on a given world view, moral values, and perspective on life. The individual can then choose as they grow up to maintain this world view or reject it. This has not been because of any torture or force, but rather good "
Teaching
" by their parents/society.
1 Thes 5:21
Prove all things - hold fast to that which is good!
Is religion because of a frenzied mind or derangement of the individual?
No!
Our beliefs are not because of a frenzied mind or a derangement of our minds. It is because
we have done as we have been taught to find out for ourselves
whether what we have been taught is true or not!
We are not told to take their word for it - or to believe without evidence
! We are taught to gain our belief for ourselves by gaining our own personal witness/evidence that these things are true!
If any of you lack wisdom - ask of God - with faith nothing doubting
If you ask of God with sincere intent - he will manifest the truth to you
Alma 5:45-47
Alma followed this course in the gaining of his testimony as can we all
3. Every man fares according to their strength/wisdom there is no crime/sin.
vs17
Is this a true statement? Does it sound like any other theory you have heard?
Evolution?
In some ways it is - we each of us fare according to our own strength and wisdom this is true. However, the corollary to this that whatsoever a man did was no crime is not valid. Just because a person's capabilities determine his path in life to some degree does not equate to there being no crime or sin. Each of us has a knowledge of Good and Evil, and we should use our capacities and abilities to promote not only our self interest but the interest of our brother and mankind as a whole.
Alma 2:13
If there is no law, there is no sin, if there is no sin there is no righteousness, if there is no righteousness there is no happiness - and God is not.
2 Nephi 28:2
eat drink and be merry tomorrow we die - if we are guilty God will save us in the kingdom of God
Mosiah 4:21-23
If ye judge a man who asks you for help - because he deserves it - how much greater will be your condemnation
Do we have this mentality? Do we hear of this idea in our society today?
Do people say that this man deserved this or that so we shouldn't help them?
Do we have people who preach there is no sin and God? Yes
Buddhists don't believe in sin - there is no God and there is no sin. This is central to their doctrine.
Atheists - do not believe in sin - the smartest and strongest will always win.
4. A child is not guilty because of the transgression of his/her parents.
vs 25
Article of Faith #2
We believe that man will be punished for their own sin and not for adams transgression
It is interesting that
he preaches a clear truth
- yet he is
twisting
this truth for his own reasons.
Because he doesn't believe in sin anyway and doesn't believe in punishment for sin as well.
5. You glut yourselves with the labors of this people - priest craft, great swelling words!.
vs 27
,
31-36
32 thou knowest that we do not glut ourselves upon the labors of this people! He knew he was lieing.
35 Why sayest thou we preach to get gain when you know we don't?
Do we have people who purposefully attempt to deceive others?
Do we know people who actually do get gain through the preaching of the word?
6 They deny the being of their creator
vs
37-42
,
Can we believe in a God without seeing him?
Yes!
Alma 30:40-42
,44
What evidence do you have that there is no GOD? Ye have none save your word only!
41 I have all things as a testimony that there is a God
44 thou hast had signs enough - all things denote there is a god, the earth, everything on it , the planits etc.
​
Our eyes are easily deceived!
Anyone seeing a good Magician can testify of this truth - there is more than seeing to belief!
April 1978 Ensign
- Evidence of things not Seen
Do we have people in our society who deny the existence of a God?
Yes they teach that there is no God, that the bible is not the word of God, that there is no evidence that such a being exists and many other such things.
They deny the testimonies of all the prophets from the beginning of time written in the scriptures, they deny the testimonies of men and women today who have felt the revelation of the Holy Ghost testifying of his existence.
They deny that the creation is evidence of God, that the marvelous bodies that we have, and the beauty and nature all around is is evidence of a God. In fact they propose that there is no evidence that such a being exists.
What do you say to people who have this opinion?
Suppose that there existed out there a being that:
Was all powerful, all knowing and Immortal. Who had the ability to move throughout the universe at his will but could only be in one place at a time.
How would you be able to prove that such a being existed? You could not. The only way you could would be for him/her to appear and show himself to us.
That is exactly what he has done! He has shown himself to individuals who have testified of what they have seen to others.
Furthermore, for some reason we are meant to live by "Faith" so we are not given empirical proof of his existence but instead must believe.
How do you know there is a God?
7 They durst not make use of that which is their own.
vs 28
What do you think he meant by this comment? Do we have this doctrine taught today? If so... about what?
Sexuality and the choice to use this however they want - see
vs 18
Lift up their heads in their wickedness?
Do we have issues with this as well in our society?
April 2014 Ensign
- Neil L. Anderson
Q5
- President Thomas S. Monson has said, "Where once the standards of the Church and the standards of society were mostly compatible, now there is a wide chasm between us, and it's growing ever wider." This chasm, for some, stirs strong spiritual whirlwinds.
This past month the First Presidency and the Quorum of the Twelve published a letter to leaders of the Church across the world. In part it read: "Changes in the civil law do not, indeed cannot, change the moral law that God has established. God expects us to uphold and keep His commandments regardless of divergent opinions or trends in society. His law of chastity is clear: sexual relations are proper only between a man and a woman who are legally and lawfully wedded as husband and wife. We urge you to review … the doctrine contained in 'The Family: A Proclamation to the World.'"
...
The Savior taught us to love not only our friends but also those who disagree with us—and even those who repudiate us. He said: "For if ye love them which love you, what reward have ye? … And if ye salute your brethren only, what do ye more than others?"
Although we may disagree with the decisions of lifestyle those around us make we should not judge them or belittle them or treat them with disrespect. They have the right to believe and worship how where and what they may!
8 They will not believe unless it is "Proven" to them - then they claim they will believe
vs 43-47
,
48-53
43 If thou wilt show me a sign then I will be convinced that there is a God
44 Thou hast had signs enough - will ye tempt your God.
They require there be empirical/measurable evidence before they will believe!
Many in today's society
demand proof
- empirical proof of the existence of God, that the Book of Mormon is true etc. Is this required before they should believe?
Math 16:4
A wicked and Adulterous generation seeketh after a sign - Korihor was both.
Remember that Alma in his youth went about destroying the church - yet this is the man confronting Korihor.
What better man to confront him that one that himself in his youth did similar things!
45 I will deny unless you show me a sign
Alma himself was shown a sign - the angel came and showed him the power of God - yet Korihor is shown the power of god in a very different way. Why do you think this is the case?
46-47 It is better that thy soul should be lost than that Korihor should bring many to destruction
48 I do not deny there is a God - but I don't believe there is one - if you don't show me a sign I won't believe
What do you think of this comment?
Doesn't it sound like he is hedging his words here a bit. There could be one... but I don't believe there is one. We hear similar comments today concening God, the creation and religion in general.
49-50 Korihor is struck dumb.
Why was Alma saved and Korihor not? What was the difference in their attitudes?
Did Korihor really believe that the people was being deceived? No he was possessed by a lieing spirit.
Alma on the other hand as a youth may really have thought that they were being deceived until he saw the angel of light!
52-55 Korihor requests the curse be taken away - it is not - Why?
53 The devil deceived him and had appeared as an angel of light teaching him these things, until he believed them.
Was this true -
if an angel of light appeared to you then surely there is a God
? Yet he denied God?
Is this yet again another story - is he lieing yet again even after being cursed?
Alma didn't believe him - he had lied one to many times it seems - If the curse were to be taken away he would again lead away the hearts of people - therefore the curse remain.
59-60 The end of Korihor - and what we lean from this story. Thus we see that...
The bad end of those who pervert the ways of the Lord
The devil will not support his children at the last day - but doth drag them down to heal.