Blessings for using the come follow me program
I have a come follow me facebook group that I have been using for my family - it is a public group so come see what is there if you wish.
President Henry B. Eyring - Ensign October 2018 - Women and Gospel Learning in the Home
Elder Quentin L. Cook - Ensign October 2018 - Deep and Lasting Conversion to Heavenly Father and the Lord Jesus Christ
Come Follow Me for Individuals - Conversion is our Goal
The aim of all gospel learning and teaching is to deepen our conversion and help us become more like Jesus Christ. For this reason, when we study the gospel, we're not just looking for new information; we want to become a "new creature" (see 2 Corinthians 5:17). This means relying on Christ to change our hearts, our views, our actions, and our very natures.
But the kind of gospel learning that strengthens our faith and leads to the miraculous change of conversion doesn't happen all at once. It extends beyond a classroom into an individual's heart and home. It requires consistent, daily efforts to understand and live the gospel. True conversion requires the influence of the Holy Ghost.
Deepen individual conversion of adults and the rising generation to Heavenly Father and the Lord Jesus Christ and strengthening faith in Them.

Individuals receive a more deep and lasting conversion when having spiritual experiences in the home setting.
Feeling influences of the Holy Ghost and establishing a testimony most often occur through individual scripture study and prayer in the home.
This program will more powerfully encourage personal religious observance and behavior and family religious observance and behavior.
It is for each individual to obtain a deep and lasting conversion to the Gospel of Jesus Christ and to come unto him.

Moroni 10:32-34
Moroni 10:3-5
Individuals should progress from just reading the scriptures - to actually studying them!
This requires consistent daily efforts to understand and live the gospel.

Strengthen families through a home-centered, Church-supported curriculum that contributes to joyful gospel living.

Make Homes a source of spiritual strength and increased faith - a place of joy and Happiness.
Honoring the Sabbath day, with a focus on the ordinance of the sacrament, with gospel learning and teaching at church and the home.

Family councils, family history, ministering, service and personal worship can enhance Sabbath day worship

Helping all of Heavenly Father's children on both sides of the veil through missionary work and receiving ordinances and covenants and blessings of the temple.

World conditions increasingly require deepening individual conversion to and strengthening faith in Heavenly Father and Jesus Christ and His Atonement. The Lord has prepared us, line upon line, for the perilous times that we now face.

Prepare members for the second coming of the Lord Jesus Christ by walking the covenant path.
What is Expected:
We have flexibility on how we implement this new program! No one is going to tell you what you do in your own home! Each family and individual should decide how they should "Come follow the Lord Jesus Christ".
The ward will be holding classes: 1,3 Sundays School Classes - 2,4 Sundays Relief Society, Priesthood, Young Women, 5 Sundays - under direction of the Bishop - Primary weekly
This allows for a coordinated learning environment where the same topics will be available as an option to learn and share.
Teaching is more than lecturing and students should come prepared to share and not to be acted upon but rather to be actors.
To help members prepare for the Sabbath, some wards already send an informative email, text, or social media message midweek. In view of this adjustment, we strongly recommend this type of communication.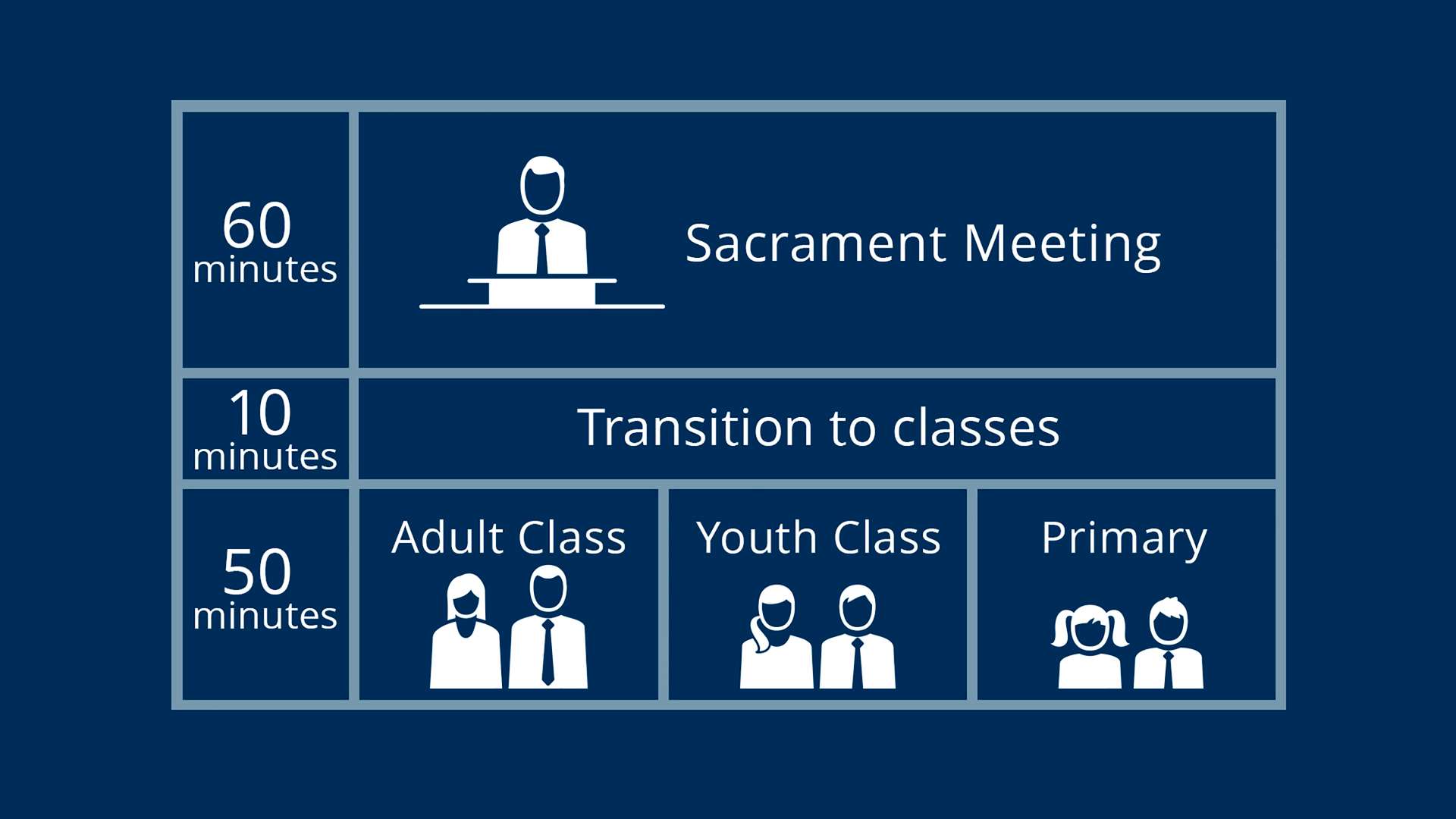 Fathers and Mothers are obligated to help one another as equal partners in their marriage.

Mothers are primarily responsible for the nurture of their children including gospel truth and knowledge.
The Spirit can guide what you think, what you say, and what you do to nurture people so the Lord may pour knowledge, truth, and courage upon you.
This is no excuse for fathers to abdicate their responsibility to teach their children the gospel - and place it squarely on their wives shoulders.

The Home is the best place for gospel learning and as such it is expected that individuals are studying the gospel in their home as well as teaching their children the gospel

This program is an organized structured program to facilitate this activity
Each of us should be studying the gospel and sharing what we learn with others both in church, the home, and wherever we may be.
Family activity night could be held on Monday or at other times - however we should keep Monday evenings free from church meetings and activities.

Extracurricular activities Some may choose to gather in groups outside the normal Sunday worship service to enjoy gospel sociality and be strengthened by studying together.


In many parts of the world, people choose to stay at the meetinghouse after the normal Sunday schedule to enjoy social relationships.
Remember that this change is not specifically about scripture scholarship - but rather about the "Conversion" of an individual and families. This is done through the studying of the scriptures, and changes in behavior of both the family and the individuals that lead to a change of heart wherein we eschew evil and become disciples of Jesus Christ! The Lord told Peter - Satan desires to have us - and once we have been converted we need to strengthen our brethren! (Luke 22:31–32)
President Russel M. Nelson - October 2018
I promise that as you diligently work to remodel your home into a center of gospel learning, over time your Sabbath days will truly be a delight. Your children will be excited to learn and to live the Savior's teachings, and the influence of the adversary in your life and in your home will decrease. Changes in your family will be dramatic and sustaining.
I hope that we can all take President Nelsons promise to heart and fill our lamps of testimony with the oil of conversion day by day... so that we are one of the 5 virgins who are prepared for the coming of the Bridgroom. (Bednar 2012)